Check out our recent specials!
Check back for our most recent specials just for you!
At Bumgarner Propane, we offer a variety of specials and deals to help you get the best price for your propane.  On this page, you can find a list of our current specials to see how you can save on your next propane delivery, refill, or tank installation. We serve locations all over North Carolina, and we encourage you to reach out to our team in order to learn more about our services and the specials we are offering. If you have questions about our specials, just give us a call to get the answers you are looking for.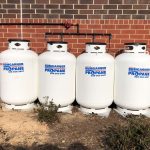 We want to be your propane supplier! Choose us, and we'll swap your tank for free.
Read More